I was looking at the Instagram feed of Allan Logan and I reacted on a hint given by Lisa Weisstuch. She said about Adam Hannett's Black Art 5 that it will haunt her dreams for a long time to come.
I reacted by hinting at the existence of Black Art 5. Allan Logan replied with :"BA5 is being released very soon"!
photo by Martin Ahlquist : http://www.martinsmalts.se/
Martin Ahlquist from http://www.martinsmalts.se/ has had the pleasure of a taste. I look forward to his tasting notes. Please see his instagram post about Black Art 5.
Update 16th April 2017
As I was re-watching the #laddiemp2 YouTube feed something was mentioned by, now, Head Distiller Adam Hannett around the 36:00 minute marker. Let's hear what he has to say. ( Published on Sep 14, 2015)
This remarks by Adam himself shows that even though the release date is 2017 Jim also worked on the Black Art 5.1.
I have known about Black Art 5 since I found the label online on August the 31st this year. The label was approved by TTB for the USA on the 25th of August 2016. I see the confirmation by Alan Logan as the go I needed to be able to blog about Black Art 5.
During my warehouse experience at the distillery on Saturday October 15th I asked the tour-guy if he knew when Black Art 5 would be revealed. He suspected early January 2017.
labels as found on ttbonline.gov
labels as found on ttbonline.gov
Black Art 5 is a 1992 expression and is now 24 year old. This is going to be one hell of an expression. The ABV is 48,4%. This is a 12.000 bottle release. Naturally no information is given about the casks used, except that they were Oak.
My budget will probably not allow me to buy a bottle, but I have some Bruichladdich expressions that are pretty unique too. If anyone would be willing to swap samples I'm game!
First review I found on whiskycast scoring a whopping 97: https://whiskycast.com/ratings/bruichladdich-black-art-5-1/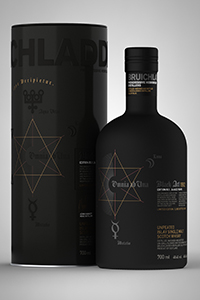 Photo as found and linked here to Whiskycask.com
The Black Art 5 is available at the Bruichladdich online store: The pricing is £267.20
This is unfortunately above my price range that I am willing to pay for a dram.
Quote as found on the Bruichladdich Website:
"THE FIFTH INCARNATION OF THIS NOW LEGENDARY SINGLE MALT IS THE FIRST BY HEAD DISTILLER ADAM HANNETT. AS ENIGMATIC AS EVER, THE COMPOSITION OF CASKS REMAINS A MYSTERY."
"Just before Master Distiller Jim McEwan retired in 2015 he took me to one side and handed me his recipe for the next iteration, Black Art 5. It was an emotional moment, the handing over of responsibility of one of the greatest drams we've ever created. I have to say I took the recipe from Jim's hand and dutifully ignored it. This had to be my Black Art." — Adam Hannett, Head Distiller"
NOSE
"IT TAKES TIME TO DECIPHER THE FULL ARRAY OF SENSORY MAGIC ON OFFER. AS THE WARMTH OF YOUR HAND HEATS THE GLASS YOU WILL TEASE THE THREADS APART TO FIND LAVISH FRUIT NOTES OF CHERRY, MANGO, APRICOT, DAMSON AND A WARMING ORANGE CITRUS ALL SWATHED IN AN OAK BLANKET OF SOFT BROWN SUGAR, VANILLA AND FIGS DIPPED IN SYRUP. EACH TIME YOU GO BACK TO THE GLASS THERE WILL BE DIFFERENT NOTES COMING TO THE FORE AS THE CONSTANT EVOLUTION OF FLAVOUR HINTS AT THE DEPTH AND SECRET COMPLEXITY OF THIS DRAM."
PALATE
"THERE IS A GRACE WITH WHICH THE WHISKY GENTLY SETTLES ON YOUR PALATE; A BLACK VELVET QUALITY THAT COMES FROM THE AGE OF THE SPIRIT, WITH THE PEDIGREE OF CASKS COMING TOGETHER TO GIVE YOU A MOUTHFEEL THAT IS UNLIKE ANYTHING ELSE. THE INFLUENCE OF GREAT WOOD IS DECADENTLY EXPRESSED THROUGH THE NEVER-ENDING RELEASE OF FRUIT. ON THE NOSE, YOU FIND DAMSON, MANGO, PINEAPPLE, MELON STRAWBERRY, PLUM AND APRICOT. ONE AFTER THE OTHER THEY WEAVE IN AND OUT OF FOCUS ON YOUR PALATE WHILE THE STRUCTURE OF THE OAK GIVES HONEY, TOBACCO, VANILLA AND HINTS OF SPICY CINNAMON. AS ELEGANT AND REFINED A DRAM AS YOU WILL FIND."
FINISH
"THE TRUE DNA OF BRUICHLADDICH SPIRIT SHINES THROUGH ON THE FINISH. LIGHT STONE FRUITS AND A CREAM TEXTURE ARE A DELIGHT WITH A PERFECT BALANCE OF OAK, MALT AND FRUIT. AS THE FLAVOURS BEGIN TO FADE A GENTLE FLORAL MELLOWNESS SETTLES TO LEAVE A LASTING IMPRESSION."
Just before going on to the next blog I would like to mention the excellent charity started by Ben Bowers for a children's heart surgery Hospital. https://www.justgiving.com/fundraising/adramaday